India's First and Most Advanced PHP Course for Freshers. 100% Job guarantee. Best Teachers. Try Course before you pay.
URGENTTCS Third Party Walkin on SATURDAY (7th May, for EXPERIENCED Programmers only)
Click here to see details of the Walkin

FreshersIndia is the BEST choice for Freshers.
Hi! you are at FreshersIndia.com, India's first PHP Institute which has the unmatched reputation of being the best PHP Trainers in Eastern India. We are based in Salt Lake in Kolkata, a place which is the hub of software companies in eastern India. Apart from training in the latest technologies, we at IPEG Solutions, have collaborated with several US clients for whom we regularly develop quality websites. All web development companies in West Bengal give preference to our students due to our superior training quality and long term relations with them. Our very popular course is the MVT Course ( Advanced web technology with PHP, MySQL, Ajax and Joomla) with 100% job guarantee. Advanced technoloy training include J2ME, Mobile application development with Google Android etc.

We also have the largest database of freshers looking for a job - you can register with your CV free of cost in just 3 minutes (Click here to Submit CV). We also organize interviews for general freshers from time to time. Approximately 35 Companies come and search for CVs on our website every month, for all jobs, programming, call center, designing etc. Freshers can contact us at 09830662770 / 8620007775 or visit our Kolkata office for general enquiries.


ISO 9001:2008 Certified
Corporate Training to MNCs
We've Trained IITs
---
Learn PHP, Python etc 100% Free with certificates. Click for details.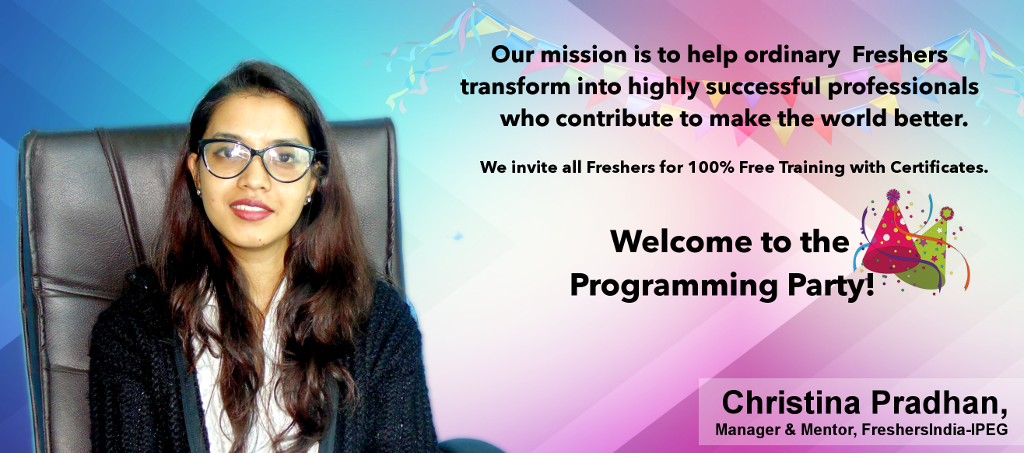 First Time in India! - Join Course, Get Job, Pay Later - UNBELIEVABLE!

Our Job Guaranteed MVT - PHP Course is the most advanced in India. Click here for course details.

See video by our founder below on why he decided to take this incredible step:

Do you know, Nikhil created FreshersIndia, and it has helped more than 20,000/- freshers get their first jobs.
Also, he has has created a jobsite for artists as well, http://indiwood.com/stars , a 100% Free portal - see how even Bollywood stars are thanking Nikhil.
You can do all this too - after learning advanced PHP, you can join a company, do freelancing, start your own portal or do all of it !!! See below how the stars are thanking our founder for his great work on behalf of YOU students.
| | |
| --- | --- |
| Celebrities: Delnaaz Irani (Bollywood Actress & popular face) | Celebrities: Ashmit Patel (Bollywood Actor, Hero in Murder/Raaz/Jai Ho etc) |

From Delhi: Get an Android Training with free massage!

Moumita tells how FB helped her get her first job

Corporate Trainees fully energized!

Feno from China on what he learned in India

Sayandeepa is getting her confidence back - slowly

Suman & Ankan are smiling again (Bengali)
---
Join our PHP (MVT) Course
You are 100% Safe with us.
90% of Institutes in India will Guarantee you a job, and then confuse you with its legal terms and conditions. Institutes will promise you a great future, MNC jobs, but only verbally. They will show hundreds of placement, but not give to you.
This is what FreshersIndia offers:

Step 1: Join our PHP Course by paying Rs.2000/- first.
Step 2: Do classes for 10-12 days.
Step 3: Based on the 10-12 days classes, we will take a test on what we taught in the 10 days.
Step 4: If you clear the test, we will give you a job Guarantee. Take it home. Show it to your parents. (Other institutes Never give the guarantee before full payment is made).
Step 5: If after 15 days, you like the teachers, the training quality, the Guarantee, only then you make the rest of the payments in installments (Total course fee: Rs.24,000).
Step 6: If there is anything you do not like, then Rs.2000/- will be returned back to you, no questions asked.

There is no other institute in India that has such a Guarantee. This is why FreshersIndia is the largest PHP Training institute of Eastern India.
and more...
FreshersIndia is the First PHP institute, we have 10 yrs+ Experience in PHP. We train Freshers for five days a week, for 3.5 months and teach them technologies like PHP, HTML5, MySQLi, JQuery, WordPress, Joomla, Yii Framework etc. Our Freshers become as knowledgeable as a 2 year experienced Programmer. All companies in Calcutta know us, and they are very happy to hire such Freshers at lower price than the experienced.
Since 2004, we have seen PHP's market grow. Today, the Top companies of the world work on PHP. Google (YouTube), FaceBook, FlipKart, PayPal etc all use PHP heavily.
IBM, Oracle and Even Microsoft have now partnered with Zend, the PHP Company. Click
here
to see.
TCS, Infosys, Wipro all hire experienced PHP Developers. Cloud Computing, the future of software, is based heavily on PHP.
PHP is the number 1 Technolgy of the Web. Android is #1 in Mobile computing. If you want to become a web developer, go for PHP. The benefit is there are many companies in Kolkata and even if you have average programming skills, you can survive in PHP. If you are a great developer, remember, FaceBook hires from IITs, pays salaries in Crores and puts them on PHP. There is nothing wrong with PHP, if you are a great developer, there are several great jobs available in PHP.

Android, on the other hand, is a New technology and hence growing fast. Android is more exciting, faster and risky, with better average salaries and faster promotions. There are much lesser jobs in Kolkata on Android than PHP, although the competition is lesser too. Android is good for those people who are always learning, looking for challenges and great developers. In a nutshell, if you are the kind of person who likes to drive in traffic in a safe car, go with PHP, if you like vrooming through in a risky fast bike, go for Android. Both are Awesome!
Special Discounts! Get 26% Off on our MVT PHP Course Only till 30-Jun-2022. Price of MVT Course = Rs.36,000 Rs.24,000.
All round Development! Our MVT Course comes with 3 Projects, all new Technologies, CMS, Framework as well as something very special - Entrepreneurship, Self Improvement, Professional Grooming and Personality development sessions by our Founder, Nikhil Narayan. For FREE!
Our founder, Nikhil Narayan, teaching PHP to IIT Kharagpur students. (15th March,2015) at Nalanda Academic Complex, IIT Kharagpur.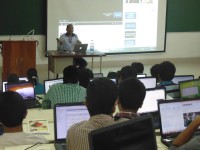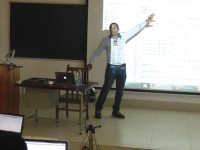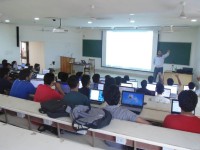 ---
Important: If you are a Fresher who is looking for a job in the IT Industry, you Absolutely MUST watch this video below.

---

Being a Fresher without a good job can be a very hard experience, perhaps this video by our CEO , Nikhil Narayan can help you. A must see for all Freshers.
---
Question: Why is FreshersIndia charging 24,000/- for PHP? Other institutes charge less.

Answer: Dear Student, We understand that you have already spent lakhs on your education and this is additional burder. You may be surprised to know, but this is a very low fee we are charging. Let me explain:

First: This is not a PHP Course. PHP is pretty easy and you can learn PHP, MySQL, HTML, CSS, Javascript in one month only. This Course is the Most Advanced Web Development Course in India, and we teach each topic in Full details. So you also learn OOPs, Yii Framework, WordPress, Joomla, OSCommerce, Ajax, HTML5 etc.

Second: Apart from technical training, you will also learn Personality Development, Self Improvement, IQ Improvement and Motivation/Inspiration from India's best Teacher, Nikhil Narayan. There is also the top secret syllabus topics especially prepared by Nikhil Narayan which is how we are doing the impossible - We give Job guarantees in court paper!

Third: Our duration is 3 hours per day, 5 days a week, 3.5 months which is about 210 hours. Other institutes take classes in total of about 100 hours only.

Fourth: Teachers Quality: Our trainers are paid almost double of what the other institutes pay their teachers. The quality of our Trainers is the best.

Fifth: Our institute is located in a multicrore building in the Posh area of Salt Lake, just 2 kilometers from Sector V where big companies like Wipro, TCS have their offices. Other institutes are not having to pay costs of such a good office.

Sixth: If you do not like our training quality after a few days of classes, you can get the entire money back. We also have a Job Guarantee in court paper before you make the Payment. No other institute in India does this.

Seventh: If you see two people, one walking on the road and one driving a BMW, what is the difference between them? If you need a one word answer, it is EDUCATION. We NEVER compromise on the quality of Education. Our students get the BEST possible training so that they BECOME the best possible professionals.
Our Founder, Nikhil Narayan loves to teach. After starting the first course in PHP in 2004 and Android in 2008, he now also teaches Freelancing and Entrepreneurship. Nikhil not only teaches, he motivates and inspires his students to find their true potential. Nikhil would love to help you and keep in touch with you via Facebook. Click
here
to view his FB page.Click
here
to see his website dedicated to self improvement and entrepreneurship.
IMPORTANT - Meet us Online - Please watch this before calling our phone / visiting our office
Dear Freshers,
Many people call us and visit our office everyday to know about our courses. However, some of them have to travel very far, and some are shy and don't ask many questions. To help them and You, our founder has made this special online meeting video! Please watch this and most probably all your questions will be answered. After you have collected the important information from this video, you can visit our office!


We are IAF Accredited, ISO 9001:2008 Certified. The IAF is the international accredition bodies that checks that a business is competent in what it does and that their customers do not face risk with them. IAF works to find the most effective way of achieving a single system that will allow companies with an accredited conformity assessment certificate in one part of the world, to have that certificate recognized else where in the world. In simple words, our quality has been tested and certified on the international standards.
Largest Contact database : For freshers and anyone who is seraching for a job,we have good news. We have the largest software company database and Here is a small sample to give you an idea.
Latest Resumes : To View the complete List , Click Here
1 - Details - CV

Thangi Sekhar of college Andhra University (60% ) registered on 12-May-2022

B.E/B.Tech

2 - Details - CV

Sk Alauddin of college Bolpur College (52.5% ) registered on 12-May-2022

B.A

3 - Details - CV

Shivani Derkar of college G. H. Raisoni College Of Engineering (83.9% ) registered on 08-May-2022

B.E/B.Tech

4 - Details - CV

Gumet Kase of college Uzphilippines (81.4% ) registered on 07-May-2022

B.Arch

5 - Details - CV

Aman Kumar Shrivas of college Govt. E. R. R. P.g. Science College Bilaspur Chhattisgarh (61.83% ) registered on 07-May-2022

BCA

6 - Details - CV

Debarghya Paul of college Jis College Of Engineering-west Bengal University Of Technology (69.8% ) registered on 06-May-2022

B.E/B.Tech

7 - Details - CV

Sutirtha Chakraborty of college Elite Polytechnic Institute (70.5% ) registered on 04-May-2022

Diploma

8 - Details - CV

Preetha Tp of college University Of Madras (74% ) registered on 29-Apr-2022

B.Com

9 - Details - CV

Pijush Pal of college Mallabhum Institute Of Technology (66.3% ) registered on 28-Apr-2022

B.E/B.Tech

10 - Details - CV

Anirban Chatterjee of college Calcutta University ( --- ) registered on 27-Apr-2022

B.Com
---
We have placed thousands in PHP, Android, IoT, MEAN, Designing etc.
236+ Software companies in Kolkata have hired our Students.

Professionals across the world, even those working in MNCs are facing financial problems and are not satisfied with where their career is going. Nikhil offers highly valuable advice to them. If you are a working professional, you Must see this video.

A girl studying Engineering in a well known university in India is highly depressed for her career since her performance is not well. "My Life is Finished", she says. Nikhil explains some secrets of success to her. A must watch for any student facing career challenges. Try to sure you have 1 hour undisturbed before you start watching.
---
Are you unhappy or not achieving success in your career? Maybe you are just short of one small skill. Learn how you can be highly successful, bring discipline, health, happiness and wealth in your life. You can also see Nikhil's blog
here.

Going for an Interview? See these tips that can provide you that definite edge - Shortcuts that can turn your fortune. You should do your standard preparation, study hard and use this tips as an additional help. Be honest and humble to the interviewer. Specially suitable for Freshers applying in software companies.
---
---
---
---
---